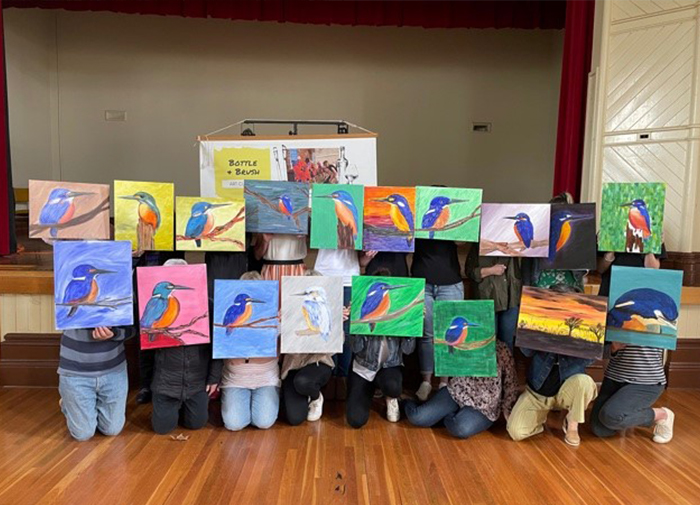 The purposes of the association are:
 Rochester Community House Incorporated is a public institution which has the charitable purpose of advancing social and public welfare by;
1. Advancing mental health and preventing social isolation;
2. Providing a physical location where it supports individuals to undertake activities, or work on projects, in the company of others.
Supported by
---
History
A steering committee was formed in 2002, by the end of 2003 we were up and running under the guidance of Echuca Neighbourhood House.  We were located at 30 Mackay St in a small flat next to the Kinder.
In May 2005 we moved into 71A Mackay St, a building purchased by the Campaspe Shire to become our new home.  With strong advocating from the committee of management and volunteers, funding for a coordinator was finally achieved in 20007, for just 10 hours per week.
By March 2007 the building was running complete with a Men's Shed out the back.  The shed operated two days a week and bought together retiree's inf to still be part of the community.
During 2010 our coordination funding was increased to 15 hours per week.
January 2011 saw the township of Rochester hit with the largest recorded (at that time) flood in history. This saw an enormous change in how the community valued us.  Retired Local Member for Parliament Paul Weller MP  was quoted saying "This organisation exemplifies the terrific work done by Neighbourhood Houses across the state & demonstrates the value of Neighbourhood Houses as important community assets."
June 2011 saw our new purpose built men's shed located at REDHS (Rochester & Elmore District Health Service) officially opened.  It is an inclusive space welcoming all members of the community with one day dedicated to the residents of the Hostel & Nursing Home.
December 2011 saw us move into our current home at 43 Mackay St, creating a hub with the local shire service centre & library.
In late 2014 our funding increased to 20 hours per week.  With another increase in 20?? to 25 hours per week.
October 2022 saw Rochester devastated by another flood event, with 90% of the community inundated but 100% of the community affected.  Again RCH became the "Go to Place" where residents and the entire community could find the support and assistance they so desperately needed.
Funding
Campaspe Shire Council.
Committee of Management
Rochester Community House is governed by a committee of management, made up of like minded members of the local community.  The committee of management is responsible for ensuring the house remains accessible for the entire community.  Membership is open to anyone at a cost of $5 per annum.
FLOOD ASSISTANCE
For more information - rochester.org.au/flood-info/